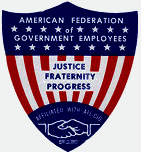 October 08, 2003
From: William M. Roach, Secretary, American Federation of Government Employees
National Council # 171, P.O. Box 70511, Charleston, SC. 29415
To: Delegates and Local Presidents, American Federation of Government
Employees, Defense Finance and Accounting Service.
Subj.: Memo from Council 171 Executive Board.
Ref: (A) Section 7114 (a)(1) of 5 U.S.C.
In accordance with the reference (A), you are hereby notified; National Council 171 respectfully requests your attention to a very important matter concerning exclusive representation.

It has come to the attention of the Council that the following message concerning representation for disciplinary and or adverse actions is coming out of the Indianapolis network.
"Any reply you make will be fully considered. You will be given a written notice of decision, as soon as possible after your reply or expiration of the time to reply. You have the right to a representative of your choosing to represent, accompany, advise and assist you in preparing your reply. However, your choice of representative will be denied if it results in a conflict of interest or position, conflicts with the priority needs of the Government or gives rise to unreasonable cost to the Government. You are responsible for the fees of any paid representative.
If you are otherwise in a duty status and you request it from your first-level supervisor, you will be allowed up to 4 hours of official time to review the material relied upon to support this action, for preparing a written reply, making an oral reply, and securing affidavits."
The message above is in direct violation/conflict with both the MUMA and 5 U.S.C. Chapter 71.

Management has no legal authority to grant or deny or allow bargaining unit employees to choose representation concerning disciplinary actions.

The "Union" is the "exclusive" representative for all bargaining unit employees.

In addition, the allowance of 4 hours of official time is in direct conflict with the MUMA.

The MUMA allows for reasonable time. The Union decides what's reasonable based on the legitimate time it takes to review, prepare or reply.

If you are aware or see this message on any correspondence concerning disciplinary and or adverse actions it is the advice of the council that you either file a ULP or grievance.

If you have any concerns or questions concerning this matter please contact your Regional Vice President.

Respectfully and in Solidarity,

/s/
William M. Roach
Secretary
National Council # 171