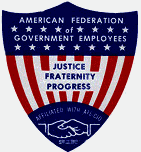 July 10, 2002

From: Kelley Dull, President, American Federation of Government Employees

National Council # 171, P.O. Box 8599, Kansas Mo. 64114

To:

Col. Ronald Cordell, Field Site Commander, Defense Finance and Accounting

Service, St. Louis Mo.

Subj.: Demand for Substantive Impact Bargaining.

Ref: (A) Section 7114 (a)(1) of 5 U.S.C.
In accordance with the reference (A), you are hereby notified; National Council 171 respectfully demands an opportunity for substantive impact bargaining concerning your proposed changes to the AWS.

As you are aware, Council 171 is the exclusive representative on all issues and concerns concerning the DFAS Corporate Community.

Since core hours are a locally supplemental bargaining issue President Dull will delegate her bargaining authority to the Local Presidents when that time comes, however, presently Ms. Dull is requesting that all proposals to change core hours be scrutinized by Council 171 before the agency enters into bargaining with the Locals.

National Council 171 demands substantive bargaining to the fullest extent required and permitted by law over any changes in working conditions, personnel policy, practices, procedures, or conditions of employment regarding any changes with the AWS or core hours.

Please respond by July 17, 2002.

The POC for this issue is the undersigned.

/s/
Kelley Dull
President
National Council # 171